We as an experienced stamp maker and one stop design and printing service provider, are proud to create quality products that customised to client's needs at affordable price and fast turnaround time. Our services include pre-inking stamp, common seal, logo design, name card design & printing, letterhead design & printing, envelope design & printing, NCR receipt/invoice books design & printing and etc.
All of our pre-inked stamps are with built-in ink pad that is easy and fast to use. They are simple to re-ink and ideal for rapid, repetitive stamping with no separate ink pad needed. Custom made stamps for business and personal use are available in a variety of sizes. All custom pre-inked stamp are made to-order with excellent quality and can be done in 10 minutes after confirmation.
We also provides corporate identity design, logo design & printing service to visualize your company brand, and helps in brand positioning and present your company image in a professional way. In today's exceedingly aggressive business environment, corporate identity empower you to stand apart from your competitors and provoke the enthusiasm of current and potential clients. As the old saying goes, you never get a second chance to make a first impression. Visualizing your brand personality is part of a brand strategy that helps in brand positioning and project your company in a more professional image.
Fast Turnaround Time
No Hidden Charges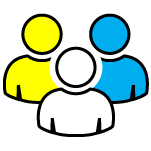 Professional Team